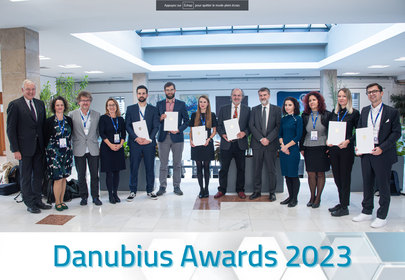 On October 19, 2023, the IDM, together with the Austrian Federal Ministry of Education, Science and Research, awarded exceptional scientists, whose work contributed to the Danube Region.
The Danubius Awards 2023 Ceremony took place in a hybrid setting. You can find the recording of the ceremony on the IDM Youtube channel.
The Danubius Award Winner 2023
The Danubius Award went to Austrian scientist Prof. Andreas H. Farnleitner, University Professor at the Vienna University of Technology and at the Karl Landsteiner University of Health Sciences Krems. We are honoured to have awarded this important prize to Prof. Farnleitner, who stands out for exceptional research in the utilization of biomass waste streams and the development of sustainable chemical processes for the modification of biopolymers. His work contributes to the development of local biorefinery concepts, using aquatic plants from the Danube region as feedstocks to support the development of a future biobased economy in this region. In addition, his priceless research involves fostering academic progress within the Danube Region.
The Danubius Mid-Career Award Winner 2023
The Danubius Mid-Career Award has been awarded to the Austrian scientist Marco Beaumont, Assistant Professor at the University of Natural Resources and Life Sciences, Vienna (BOKU), where he is part of the Institute of Chemistry of Renewable Resources. Moreover, he leads the research group "Chemistry of Renewable Nanomaterials". Prof. Beaumont's research has proven to be meaningful for the Danube Region, as the award clearly demonstrates.
The Danubius Young Scientist Award Winners 2023
Austria
Bosnia and Herzegovina
Bulgaria
Croatia
Czech Republic
Germany
Hungary
Moldova
Montenegro
Romania
Serbia
Slovakia
Slovenia
Ukraine
Magdalena Baran-Szołtys 
Mirza Buljubašić 
Nevena Aleksieva 
Stjepan Srhoj 
Zdeněk Jakub 
Benedikt Bagemihl 
Ádám Lovas-Kiss 
Anastasia Ivanova 
Isidora Stanković 
Alexandra Cehan 
Olja Šovljanski 
Dominika Oravkinová 
Tina Kegl 
Ivan Laktionov 
Press Release Danubius Awards 2021
You can find the press release following this link.