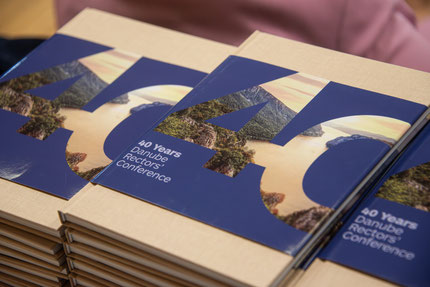 The 2023 Annual Meeting of the Danube Rectors' Conference was hosted at the West University of Timisoara, Romania, from October 19 to 20, 2023. Celebrating the 40th anniversary of the establishment of the Danube Rectors' Conference in 1983, the DRC Permanent Secretariat presented the 40th DRC Anniversary Publication.
The Danube Rectors' Conference was established in 1983 in Vienna by university leaders from Ulm, Linz, Vienna, and Budapest. Over the years, it has grown to include 64 higher education institutions from 15 countries in its regional network. The founding universities of the DRC initially sought to bridge the East-West ideological divide in Central and Eastern Europe. Over the years, it has evolved into a successful example of scientific diplomacy, fostering academic and scientific cooperation, research, and innovation. For four decades, the Danube Rectors' Conference has exemplified the strength of collaboration and unity among universities in the Danube Region. From its inception, the DRC has recognized its role as a partner for European institutions in promoting European integration.
Within this publication, readers will discover in-depth information about the various projects undertaken by the DRC. These include the annual DRC Summer School, which brings together young individuals from the region to explore significant regional topics, and the DRC Initiative Fund, which is dedicated to improving research and innovation. The brochure also offers an overview of the impact that our network has made in the Danube Region through its diverse initiatives spanning several years.
Additionally, an exploration into the future of this network and the substantial role played by the DRC Presidency in the promotion of its core values is presented. Notably, this coincides with the transfer of the EUSDR Presidency from Slovenia to Austria, offering auspicious prospects for the impending year.
40th DRC Anniversary Publication
40th DRC Anniversary Publication.pdf
Adobe Acrobat Document
5.0 MB