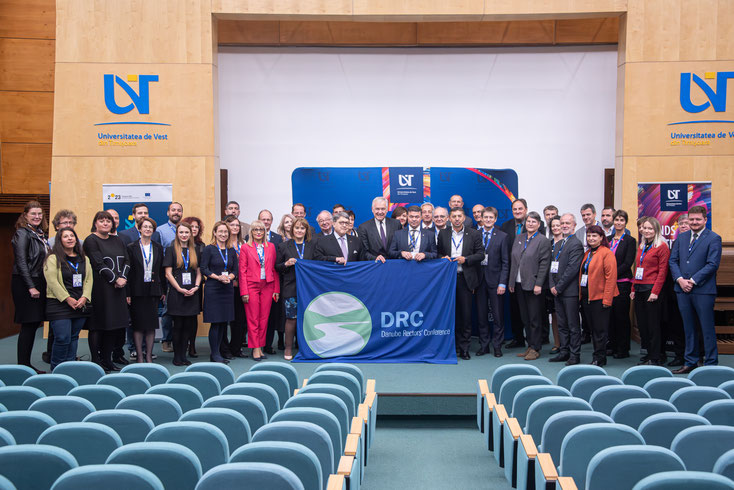 The Danube Rector's Conference met the DRC representatives of all its member universities for the DRC Annual Conference 2023, from 19 to 20 October 2023, at the West University of Timișoara in Romania. This year, the discussions of the conference focused on the current and future developments of higher education in the EU and especially in the Danube Region. The main topic was 'Forty years of overcoming academic divisions: importance of higher education for democracy and culture"' as the DRC celebrated its 40th anniversary. It was an opportunity for DRC members to celebrate and connect with experts and scholars from the Danube Region.

Day 1 - 19 October 2023
The 2023 Annual Meeting of the Danube Rectors' Conference started with four different panels on Romanian and Austrian foreign relations, forty years of cohesion through education, higher education in times of war and fostering research excellence of youth.
Later in the day, the Danubius Awards 2023 Ceremony took place in a hybrid setting. Together with the Institute for the Danube Region and Central Europe (IDM) and the Austrian Federal Ministry for Education, Science and Research (BMBWF), these prizes are awarded to people who made outstanding contributions to the Danube Region in their scientific work.
The "Danubius Award 2023" went to Prof. Andreas H. Farnleitner. The "Danubius Mid-Career Award 2023" was awarded to Dr. Marco Beaumont. Finally, fourteen brilliant young scientists were honoured with the "Danubius Young Scientist Award 2023".
Day 2 - 20 October 2023
The General Assembly 2023 took place on the second day. Representatives from the DRC engaged in discussions concerning the outcomes of 2023 and the future direction of the DRC network. Furthermore, members had to go through a crucial vote concerning the changes in the DRC statutes.
We hope to see as many representatives of DRC member universities as possible at the next DRC Annual Conference, which will take place at the University for Continuing Education Krems, Austria, in 2024!