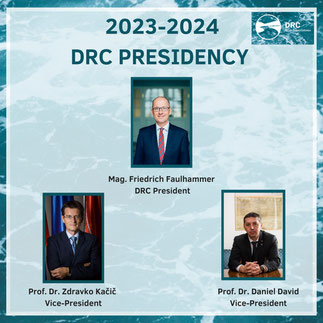 Following the elections of the new presidency during the DRC General Assembly on 11 November 2022, we gladly announce the new DRC Presidency for the period 2023-2024. 
Beginning with 1 January 2023, Mag. Friedrich Faulhammer, Rector of the University for Continuing Education Krems, takes over the position of DRC President. The role of the new Vice-Presidents will be assumed by former DRC President Prof. Dr. Zdravko Kačič, Rector of the University of Maribor, and Prof. Dr. Daniel David, Rector of the Babeş-Bolyai University.
We would like to congratulate the newly elected Presidency and are looking forward to the cooperation during the upcoming two years. We are confident the members of the new Presidency will continue DRC's mission to strengthen the ties among its members and through the continuation of various initiatives to further increase DRC's presence in the Danube Region and beyond. 
---