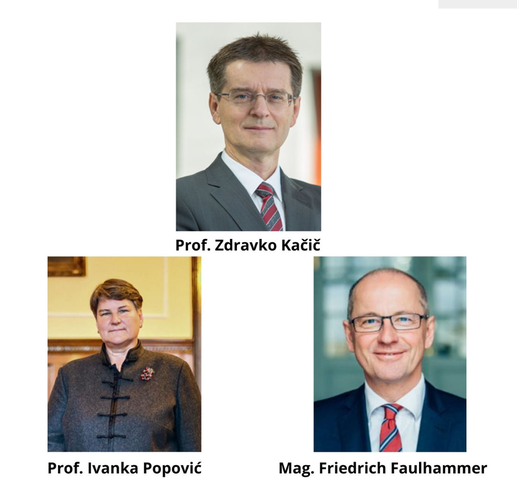 By the end of this year, the  2-year tenancy of our current  Presidency, composed by Rector Prof. Dr. Zdravko Kačič,  Prof. Ivanka Popović and Rector Mag. Friedrich Faulhammer, will come to an end. During the last two years, the DRC was able to prepare, and implement numerous projects, initiatives and events that contributed to the growth, integration and progressive development of the higher education and academia in the Danube Region. In their role as the 2020 – 2022 DRC presidency,  Prof. Dr. Kačič, Prof. Popović and Mag. Faulhammer  contributed significantly to our achievements by  representing  and  affirming  the values and ambitions of the DRC.  We already want to express our gratitude and acknowledgement for their  dedication  of effort, time and conviction towards the mission of the DRC and its implemented projects. 
The last two years showed us the great potential and need for further engagement and support the DRC could undertake in the Danube region for both its member universities, as well as its societies in general. The increasing democratic backsliding in several Member States of the European Union significantly affecting university autonomy and governance, the renewed ideological and political tensions, and, lastly, the Russian invasion of Ukraine call for enhanced actions and involvement of the DRC also in the upcoming years. 
The DRC presidency plays a crucial role for the external representation, performance and involvement of the DRC in the process of developing answers and solutions for the current challenges of the region in the areas of higher education and research. Thus, as in the previous years,  we hope to find proactive and ambitious candidates for the DRC Presidency  who continue our mission to strengthen the ties among our members, as further also foster the awareness raising and involvement of the DRC  in the Danube Region  during  the 2022 – 2024  period. 
To find the best candidates for this demanding and prestigious position, we call on the representatives of the DRC member universities to nominate their candidates. Eligible for the position are all Rectors of universities that are full members of the DRC. After having gathered a list of official nominees, the DRC General Assembly will come together and elect the new presidency. 
We encourage you  as an active DRC  member,  to nominate an eligible candidate for the 2022 - 2024 DRC Presidency. 
Please send your nomination together with a brief explanation of your reasons to propose the candidate in form of a duly signed pdf document to the DRC Permanent Secretariat:  info@drc-danube.org   
We are looking forward to receiving your nominations for the new DRC Presidency!
---