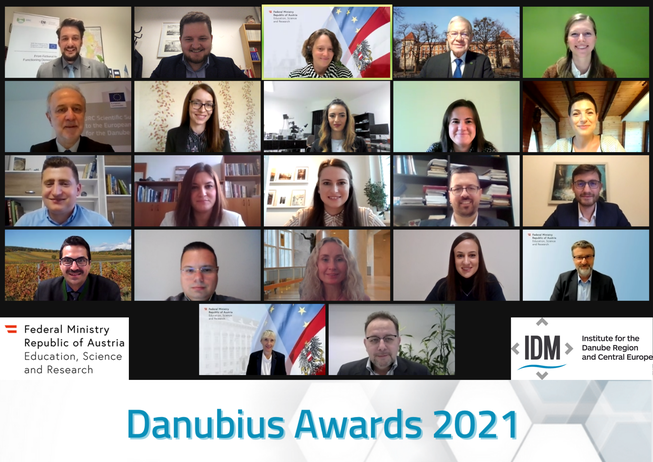 On November 11, 2021, the IDM, together with the Federal Ministry of the Republic of Austria of Education, Science and Research, awarded excellent scientists, whose talent has flourished in the Danube Region.
Due to ongoing pandemic restrictions, the Danubius Awards 2021 Award Ceremony took place in a virtual format. You can find the recording of the ceremony on the IDM YouTube channel.
The Danubius Award Winner 2021
The Danubius Award went to Austrian scientist Prof. Josef  Glößl University Professor for Applied Genetics at the Institute of Plant Biotechnology and Cell Biology of Boku. We are honoured to have awarded this important prize to Prof.  Glößl, who stands out for an exceptional career in physiology, chemistry, plant physiology, and applied genetics - together with his invaluable contribution to the Danube region's academic development. 
The Danubius Mid-Career Award Winner 2021
The Danubius Mid-Career Award has been awarded to the Serbian scientist Tijana Dabović, Ass. Professor at the Faculty of Geography of the University of Belgrade, where she has been working in the field of Spatial Planning since her PhD. Her work has mainly focused on planning disciplines, with particular emphasis on multi-level governance and cross-sector integration. Involved in different national and international projects, Prof. Dabović's research has proved to be meaningful for the Danube Region, as the award clearly demonstrates.
The Danubius Young Scientist Award Winners 2021
Austria
Bosnia and Herzegovina
Bulgaria
Croatia
Czechia
Germany
Hungary
Montenegro
Romania
Serbia
Slovakia
Slovenia
Ukraine 
Gusenbauer Claudia
Raič Mirna
Mihaylova Svilena
Kovač Tihomir
Šedová Petra
Corman Mihai-Razvan
Szeghy-Gayer Veronika
Ćalasan Martin
Câmpu Andreea-Maria
Salević Ana
Majzlíková Erika
Bezak Nejc
Karabiniuk Mykola
Press Release Danubius Awards 2021