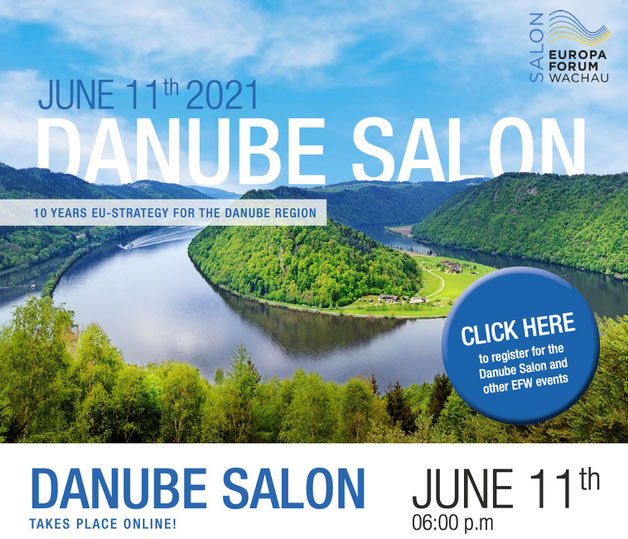 The Danube Salon Europa-Forum Wachau is around the corner!
Since its launch in 1995, the Europa-Forum Wachau and its salons offer participants the opportunity to commit to the future of Europe and to shape it through discussions on current challenges in a common and united Europe.  This year, the leading theme is the future of the EU and this edition of the Europa-Forum Wachau is entitled "Heading for New Horizons". Further paths for the EU will thus be discussed in Göttweig Abbey (Krems district) by top politicians, entrepreneurs and experts. 
The Europa-Forum Wachau will this year take place from June 10th to 12th, 2021. It also marks the 25th anniversary of the Forum, which means that 25 years of dedication to the future of the EU will then be celebrated. 
In the framework of the Europa-Forum Wachau, the Online Danube Salon will be held on the Friday the 11th, at 6pm, at the Campus Krems. This will be an ideal opportunity to discuss in depth the intensive cooperation work in the Danube region.
The EU Strategy for the Danube Region (EUSDR) is mostly based on the promotion of the cross-border and transnational cooperation in the Danube Region. This framework of cooperation serves as a great plateform for the co-shaping the European future and has been implementing a macro-regional strategy focusing on the most international and most diverse river in the world for 10 years now. This salon will present the crucial elements to co-design a European future in matters of regional cooperation, science, youth and education.
The Salon will be moderated by Sebastian Schäffer, IDM Managing Director and DRC Secretary General.
The speakers will include:
Martin Eichtinger, President of the Europa-Forum Wachau, Minister of Housing, Labour and International Relations in the Government of Lower Austria
Vidosava Enderic, Assistant Provincial Secretary for Regional Development, Inter-Regional Cooperation and Local Self-Government of the Autonomous Province of Vojvodina, Serbia  (ARGE Donauländer)
Rudolf Schicker, Vice chairman of the board IDM, former Coordinator EU Strategy for the Danube Region, former Deputy Mayor City of Vienna
Harald Stranzl, National Coordinator EU Strategy for the Danube Region (EUSDR), Federal Ministry for European and International Affairs
Stefan-Razvan Rab, National Coordinator Romania EUSDR
Verena Winiwarter, Univ.Prof. University of Natural Resources and Life Sciences Vienna and project coordinator for Danube:Future
Zdravko Kačič, Rector of the University of Maribor and President of the Danube Rectors' Conference, Slovenia
Katka Krejcova, International relations in the Department of Art and Culture in the Office of the Lower Austrian Government
Robert Lichtner, Coordinator Danube Strategy Point Vienna
Participation is only possible online - there is no possibility to be present on site at the event but further information on the event and registration can be found here.
Join this inspiring online event and discussion at the Europa-Forum Wachau 2021!