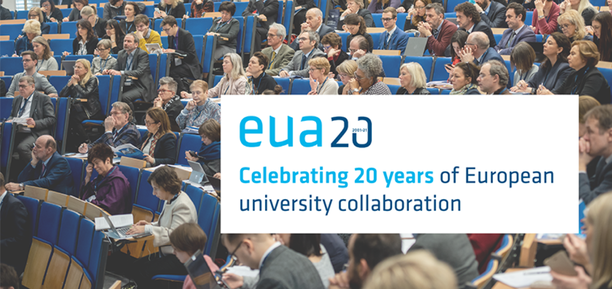 The DRC Presidency, on behalf of the Danube Rectors' Conference, would like to express the most sincere congratulations to the European University Association (EUA) for the 20th Anniversary from the year when the two rectors' conferences of that time, the European Rectors' Conference and the European Union Rectors' Conference, merged to the present European University Association.
As an associated member, the Danube Rectors' Conference is especially interested to discuss co-relations between regional and European wide topics and to assure the holistic approach to our common challenges, as regional and local topics constantly become European wide issues sooner or later.
We see the most value of EUA to be a place for the exchange of views and discussion, a link of individual topics and common larger scaled issues, a union of higher education institutions and their national or regional representations for the realisation of the Magna Charta Universitatum.
In this connection, Danube Rectors' Conference shares EUA values regarding UN SDGs with emphasis on knowledge-based society, respect for regional diversity and inclusion.
We believe that EUA shall continue to defend and foster these values and be the voice of its members in front of not only EU policymakers, but also globally towards other higher education areas, where these values might be considered differently or might even not be in the foreground. The actual topics of resilience, digital transformation, and especially foresight of the future challenges for the EHEA and ERA will be very welcome. In this aspect, we are also interested to see how in the future EU Programmes, macro-regional topics may be integrated into central EU Programmes to a certain extent. Especially cohesion policy is challenged, as in the past, differences between regions have increased, not decreased as was hoped for.
For the 20th anniversary of EUA, we therefore wish for prosperity and deepening of the relations among the members and, of course, health to all of us.
DRC Presidency