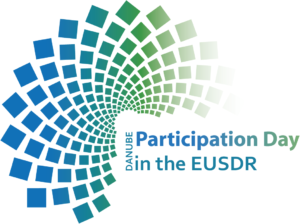 We gladly share the word that the 7th Danube Participation Day will take place on 21 October 2020.
The Danube Participation Day 2020 will present the first draft of the Guidance Paper for Youth Participation in the Danube Region. Against this background, participants will have the opportunity to exchange on possible ways forward in order to boost cooperation and participation of young people and youth initiatives. In doing so, the Danube Participation Day wants to provide a platform to raise awareness of valuable contributions from existing youth initiatives in the region and taking initial steps forward to acknowledge and involve youth in the Danube Region.
This year`s Danube Participation Day represents the continuation of efforts from the conference in 2019 that marked the kick-off for the draft of the guidance paper.
Due to the current COVID-19 pandemic the Danube Participation Day will be a virtual event.
Further information on the registration and the agenda will follow soon.

Regular updates are also available at the Website of Priority Area 10 Institutional Capacity and Cooperation at https://capacitycooperation.danube-region.eu/danube-participation-day/.