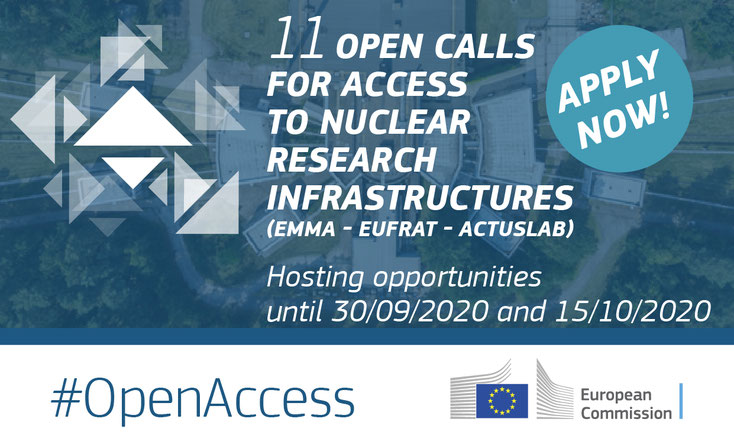 We are glad to announce that the JRC has opened 11 calls to access JRC nuclear research infrastructures:
Laboratory of the Environmental & Mechanical Materials Assessment (EMMA)
[Calls close 15/10/2020]
AMALIA, assessment of nuclear power plants core internals
SMPA, Structural Materials Performance Assessment Laboratories
MCL, Micro-Characterisation Laboratory
European research infrastructure for nuclear reaction, radioactivity, radiation and technology studies in science and applications (EUFRAT)
[Calls close 15/10/2020]
RADMET, Radionuclide Metrology laboratories
GELINA, the JRC Neutron Time-of-Flight Facility
HADES, Underground laboratory for ultra-low level gamma-ray spectrometry]
MONNET, Tandem accelerator based fast neutron source
Actinide User Laboratory (ActUsLab)
[Calls close 30/09/2020]
FMR, Fuels and Materials Research
PAMEC, Properties of Actinide Materials under Extreme Conditions
Three state-of-the-art laboratories are located in Karlsruhe and are designed for research on actinide materials. Actinide elements are the backbone of nuclear technologies, such as energy, space exploration or medical treatments. Scientists will be able to conduct exploratory research to help develop new nuclear equipment or materials. The JRC will also make accessible four of its European facilities for nuclear reaction and decay data measurements in Geel. Such measurements help to make nuclear reactors and the handling of nuclear waste safer, and enhance radiological protection for citizens and the environment. In Petten, four research infrastructures provide hosting opportunities in laboratories for mechanical tests in ambient and corrosive environments from cryogenic to high temperatures at the macro and micro scales. Scientist have the opportunity to investigate materials performance, mechanical and corrosion properties and characterisation to make reactor infrastructures safer.
The calls are addressed to external users from academia and research organisations, industry, SMEs, and more in general from the private and public sectors.
You will find all relevant information here:
https://ec.europa.eu/jrc/en/research-facility/open-access
Conditions and criteria for access
The Lead User Institution and User Institutions (see definitions in the Framework) must be from an EU Member State, country associated to the Euratom Research Programme (only Switzerland and Ukraine).
The Lead User Institution must be from a university, research or public institution, or from a Small-Medium-Enterprise (SME).
Ethical considerations in accordance with EU Law, in particular Art. 19 of Regulation (EU) 1291/2013, and applicable laws and regulations in the EU Member States.
The proposal submission form is complete and complies with the instructions.
New: The JRC may provide a financial or in-kind contribution to support Users to cover their costs of travel and subsistence (T&S) related to the User stay Days, subject to the availability of funds, personnel and other resources to Users from User Institutions located in an EU Member State or country associated to the Euratom Research Programme (only Switzerland and Ukraine).