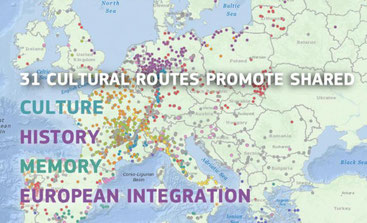 For the 7th EUSDR Annual Forum in Sofia, JRC prepared an interactive software tool Story Map on tourism in the Danube region.
EU-funded projects on tourism, cultural heritage and arts, bike routes and wellness resorts are among the highlights of an interactive Story Map on tourism in the Danube region, launched by the JRC at the 7th Annual Forum of the EU Strategy for the Danube Region (EUSDR) on 18th October 2018 in Sofia.
It is an innovative way of displaying various datasets linked to various policy issues in an accessible and attractive way. It takes the viewer on a journey along the Danube river and the countries it borders and flows through.
The Story Map gives a snapshot of the rich heritage of the Danube region and the potential of its tourism economy. It also allows users to learn about the cultural heritage initiatives supported by the EU in the region and the links between cultural and natural heritage.
As said by Commissioner Tibor Navracsics in his speech, the Story Map "showcases our beautiful Danube region and also gives an overview of some of the main challenges facing it."